The holiday season is here and we are in the spirit of giving. It should feel good to give to our loved ones. Unfortunately, with mass marketing  we can be guilted or pressured into buying beyond our means. The smiles on Christmas morning fill us with gratification; but, then we are left depleted financially. We forget that giving doesn't have to be material things. We can give our time, our presence, a smile or an encouraging word. We can craft, cook, write or sing a gift.  We should give from our heart and do it  unconditionally in a way that feels good to us. The act of giving and  kindness should be practiced regularly and not just during the holidays. It is said to give what we want to get.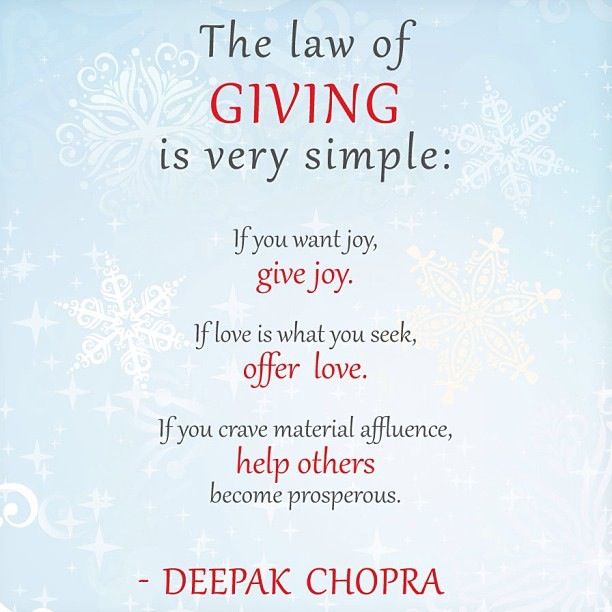 Most of us are continuously giving of ourselves to our kids, our families, our relationships, our work, our home, our pets…we usually forget to give to ourselves. This leaves us feeling exhausted. It is so important to give to self first. To nurture your own being and fill your well with love until it flows over, and only then can you give to others. Whether its the holidays or not, giving is an art to be appropriately learned and practiced. 
The other end of giving is receiving. Receiving doesn't get as much praise. Most of us have been taught to give; but to be too humble to receive. We feel guilt or shame or unworthy to receive. Whether it be a lavish gift, or a simple compliment. We usually shrug it off and feel uncomfortable. The truth is that receiving is just as valuable as giving. It keeps energy flowing. To not receive is to block what that person is trying to give you. We must love ourselves enough to open up and receive what loved ones, our bosses, or God, or Universe is trying to give us. To not receive is to close ourselves off from love, from Source and from our own worth. To be able to give, you must be able to receive. 
The goal is to understand that giving and receiving are a constant and natural flow. In order to give you must be able to receive, and to receive you must give, of yourself, to yourself, and to others, and to do it in a way that doesn't deplete us and without expectation.
"Giving and receiving are different expressions of the same flow of energy in the Universe."~Deepak Chopra
I am giving and sending out much love and light to you all through the holiday season and always!!! Happy Holidays and Many Blessings!!💖